Tracking the online reviews and feedback of the customers gives you enormous information. Being a business owner, you devise strategies that help you to convert the information into something that would bring cash to your business. You need to monitor the marketing strategies. As one of it is to use the feedback for your business marketing. In addition, social tools can make your work a lot easier.
You wish to know what's happening on your social profiles? Have a look at these social tools and thank us later!
1. Trackur- Low budget, High Insights
Trackur's dashboard designed in a way that helps you to collect the analytics so quick and easily. Trackur contains so many user-friendly features. It includes;
Content and newsfeed monitoring
Generation of social profiles excel reports
Detailed analysis of users conversation.
                Image source; netbase
Moreover, you can avail these features with starting 10 days free trial. Also for its testing, you do not need to have a credit card.
2. Cision- Strong social media Heed
What would do more good to you than identifying the users saying right things about your business? Find them and use it to impact the potential audience. With Cision,  you would be able to;
Track the customer's engagement on social accounts
Find the actionable insights on your social accounts
Summary of Data Analytics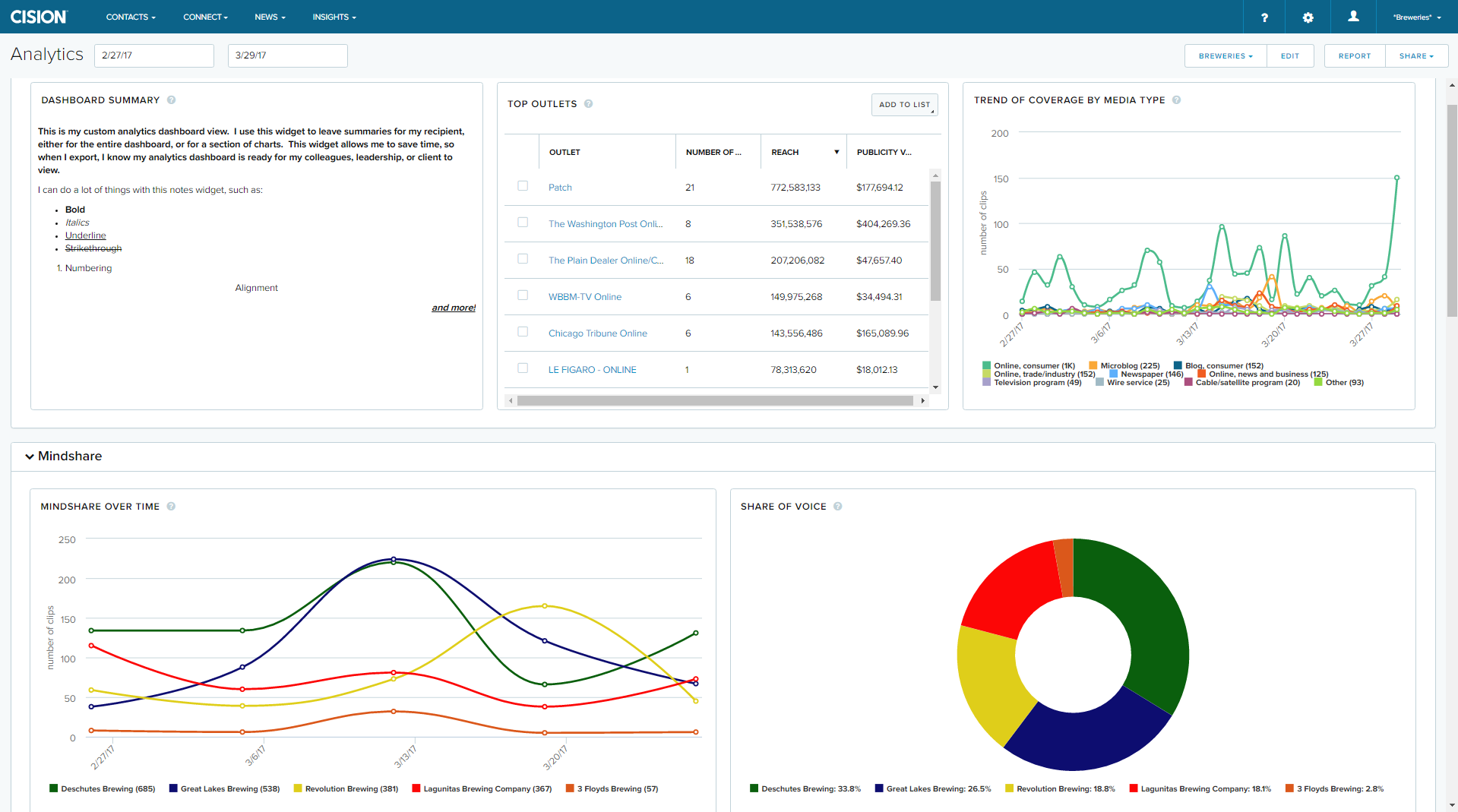 Image source; a.fsdn
Using this software will help you to bring effective results. Moreover, it is a way that will lead you to the industry leaders.
3. Hootsuite Insights- One step Ahead of competitors
The customer is king and you need to worry about them. To know what they want and what not, you have to be all ears. Doesn't matter which industry you belong to, the only thing that matters is to hear the problem and solve it. Hootsuite insights will keep you one step ahead of your competitors. With that, you already know your customer's want which actually up your brand reputation. Hootsuite insights help you with;
Brand and industry analysis
The criterion for likes and followers
Real-time social media analysis
Demographic analysis
                  Image source; hootsuite.com
This tool will help you to gain a better understanding of your customers. Moreover, you will be in touch with potential customers. Once you start to market their feedback and happy reviews, your sales will multiply.
4.Nuvi- Tracking of Social Conversation
One way to create engagement is to spill some spicy element on social media and wait for the comments. This is the easiest way to get engaged with your customers. However, simple engagement would not do you good unless you monitor it. For that, Nuvi should be your first choice. Nuvi helps you with;
Content Monitoring
Analysis of keywords
Analyze the social groups and fans blogs
Data reporting
       Image source; zdnet3 
If you are new into business or struggling, don't worry about it. Use these tools and they will lead your business to great success.
Here, you can learn more about the reason that might help you to up your online reputation game.